East Coast Elite History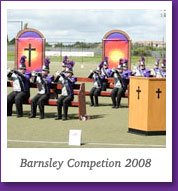 In 1998 East Coast Elite Brass & Percussion Corps was created from the original 1st Cleethorpes Boys' Brigade / 2nd Cleethorpes Girls' Brigade whose origins date back to 1952.
The original concert band took part in the Boys' Brigade National Finals and won the overall championship in 1981.
The Corps still have some of the original instruments which are maintained and used for concerts and carols during the winter months.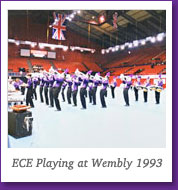 Some of the most remembered highlights from this era were winning the National Contest Class at Wembley Arena in 1993 where the band played Farandole from L'Arlesienne and in 1996 taking the Championship Class title at the NIA in Birmingham.
The now independent youth organisation serves the whole of the North East Lincolnshire area and has through the years enabled hundreds of young people to take part in the great musical activity.
More recently the Corps played for the Olympic torch in 2012, the Commonwealth torch in 2014 and also played in the Olympic park for the 2012 Paralympic games.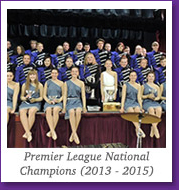 Recent achievements include becoming three times BYBA Premier League National Champions (2013 to 2015) & joining Europe's Elite by placing in the Drum Corps Europe's top 10 final ranking in 2016.
The Corps retains some of the key original values of discipline, leadership and individual achievement creating an overall strong team ethic.
Since 1998 the Corps has regularly taken part in British Youth Marching Band Association national competitions & Drum Corps United Kingdom.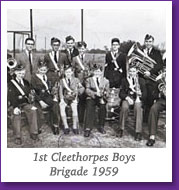 Programmes for the last 13 years are as follows:
2010 - 'Dreams' BYBA Division 2
2011 - 'Sorcery' BYBA Division 1
2012 - 'RACE' BYBA Division 1
2013 – 'Space' – BYBA Division 1 Champions
2014 – 'The Circus is coming' – BYBA Division 1 Champions, DCUK Open class 5th place
2015 - 'Pandora's Box' – BYBA Premier Class Champions
2016- 'We are gathered here today' – BYBA Premier League Winner, DCUK Open class 4th place, DCE 10th in final ranking
2017 - 'He Had it Coming' - DCUK Open Class 5th Place, DCUK 10th in final ranking
2018 - 'Human Within' - DCUK Open Class 5th Place
2019 - 'Innovation' - DCUK Open Class 3rd Place
2022 - 'We're still standing'
More information
For more information about upcoming performances and events please email us at tonyjexuk@yahoo.com or contact us on our facebook page.