Membership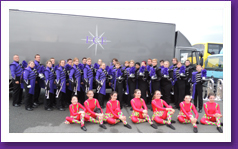 East Coast Elite's mission is to provide all its members including learners with the finest musical educational experience available. Although sometimes competitive in nature, the activity primarily is a learning experience. Emphasis is placed on self motivation, developing life skills including discipline, fitness and teamwork.
It is an education designed to give members an opportunity to inspire them to be the best they can be.

Music In The Performing Arts
We are looking for new members for our next production.
ECE is a marching corps that are a member of the British Youth Marching Band Association, Drum Corps United Kingdom and is in simple terms a marching performance ensemble.
Members & Learners
We are looking for new members to participate in the corps from the age of 11 to 24.
We are able to teach individuals with no previous musical experience as long as they are willing to learn and committed. Many members take their musical grades to advance their ability however this is not essential and all individuals are permitted to use our instruments for school events.
If you already play an instrument or have previously played with a Band or your school orchestra, it is an advantage and integration into the main corps is likely to be quicker however this is not essential. You may also wish to learn a different instrument as have many of our existing members.
Options
There is the option of joining the Brass, Guard (dance) ,Battery or Tuned Percussion sections. The Brass section has a leaner group which caters for individuals from the age of 12 or from 10 if the individual has some experience.
The Guard section incorporate dance and drama in order to portray visually the musical story we tell.
The Battery Percussion contains the drummers and we also have a Tuned Percussion section which includes the marimba, xylophone, glockenspiel, tubular bells and timpani.
Instruments
All the instruments are supplied free of charge but must be looked after and kept in a safe place at your home while on loan to you. You will asked to sign for the instrument and are responsible for taking care of it.
Uniform
You will be supplied with a uniform for competitions and others events when you attend regularly. We supply a uniform to you free of charge.
Instructors
All instructors are enthusiastic and knowledgeable. In addition all staff and members over 18 are DBS checked for safeguarding purposes.
Lessons
We will be based at Humberston Academy DN364TF 7pm - 9pm each Thursday evening and once a month on a Saturday and Sunday (on occasion we do move to other venues).

Costs
Membership costs £12 per month which goes towards the school hire costs and is subsidised.
The only further cost relates to individuals' trips to competitions or events and is kept to a minimum.
Friends & Parents
Please feel free to come along and visit us. You are most welcome to come along at any time to a practice session to see how the training is carried out with our dedicated staff or to view events.
Visual & Drill Design
We use the latest drill software programme to develop and visualise our show. This is a complex choreographed routine and often demands a lot from our member and incorporates dance /drama. With our show often incorporating pieces around 180bpm being a member considerably helps your fitness!
Lorry
We have our own Iveco Euro Cargo 7½ tonne lorry for transporting all our major instruments / equipment, uniforms and props around.
Education
School, college or university life is very important to us and anyone that becomes a member of ECE. There has been proven research showing that young people that get involved with music and art show an improvement in concentration as well as showing a positive impact on school work.
Our aim is to build an excellent relationship with educational organisations to give all the opportunity to get involved in a fantastic activity.
Events, Show & Music
A variety of written music has been selected and arranged for us in order to give a well balanced book in addition to our main programme.

More information
For more information about upcoming performances and events please email us at tonyjexuk@yahoo.com or contact us on our facebook page.