Programme 2008 - From Heaven Above
2008 Sees East Coast Elite look to the church for this years production "From Heaven Above".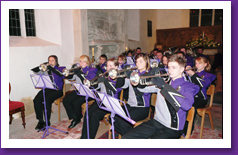 Opening this season's production, East Coast Elite are going back to their routes with Canon in D by Pachelbel to start their new season. The opening percussion section is Heavens On Their Mind taken from the musical production Jesus Christ Superstar followed by Jesu Joy of Mans Desire with On A Hymn Song of Philip Bliss is this year's ballad. The Corps will close this year's show with Ode to Joy by Beethoven.
For their 2008 production East Coast Elite have looked to the Church for their theme by taking some well know hymns with some inter-dispersed choral themes and they hope to portray the enlightenment and emotion of this religious following.
This year's production has been arranged in conjunction with Mark Bolton - Brass, Gavin Morgan - Percussion and Nick Emmett - Tuned Percussion. We are grateful for their ongoing commitment.
Programme Archive
Programme 2022
Programme 2019 - Innovation
Programme 2018 - Human Within
Programme 2017 - He Had it Comin'
Programme 2016 - 'We are gathered here today'
Programme 2015 - Pandora's Box
Programme 2014 - The Circus is coming
Programme 2013 - Space
Programme 2012 - The Race
Programme 2011 - Sorcery
Programme 2010 - Dreams
Programme 2009 - Year

More information
For more information about upcoming performances and events please email us at tonyjexuk@yahoo.com or contact us on our facebook page.