Programme 2011 - Sorcery
East Coast Elite are proud to announce our 2011 programme 'Sorcery' and intend to further our unique approach to developing a drama theme through our musical and marching arts performance.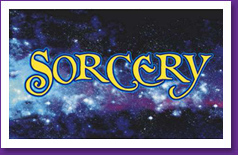 This year's show tells the story of Evil Sorcerer's who use their supernatural powers to overcome the good and transport them to a fantasy world.
The show is a fusion of music from Rock to Classics and includes our individual twist on the Sorcery score with what we hope is a show to entertain spectators of all ages. We have again added our own unique style by mixing stunning visual effects, skilful musicians, agile dancers and enthusiastic actors with the skill of a master alchemist!
Following on from last year's successful season we are pleased to again announce that the visual and brass book has been written by Mark Bolton. Further to this Jerry Carpenter from the USA has written the full percussion score this year. We are delighted that this show will be supported by the entire staff from last season, who intend to coordinate the performance.
Programme Archive
Programme 2022
Programme 2019 - Innovation
Programme 2018 - Human Within
Programme 2017 - He Had it Comin'
Programme 2016 - 'We are gathered here today'
Programme 2015 - Pandora's Box
Programme 2014 - The Circus is coming
Programme 2013 - Space
Programme 2012 - The Race
Programme 2010 - Dreams
Programme 2009 - Year
Programme 2008 - From Heaven Above

More information
For more information about upcoming performances and events please email us at tonyjexuk@yahoo.com or contact us on our facebook page.